We all know that what ever hits the US tends to ripple over to the UK, some 6 – 12 months later, so with the recent increase of Facebook Ad's by local business owners, you would think it's only a matter of time before more and more local business owners in the UK turn their local marketing interests towards Facebook.
It has been recently reported that only 22% of local businesses say they have actually used Facebook's Advertising network, nearly two-thirds of those who have used Facebook Ads (64.9%) say they would definitely use the service again. Meanwhile, 65.7% of local businesses say they only use Facebook for general marketing and not for ad's.
Below is additional research from MerchantCircle's quarterly Merchant Confidence Index and is based on a survey of 4,942 small, local businesses.
When asked why they would use Facebook Ads again, surveyed local businesses pronounced ease of use (66.5%), followed closely by the flexibility to pause and restart campaigns at will (64.8%).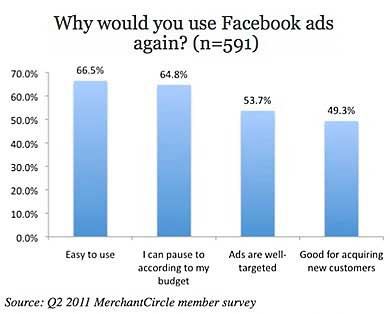 More than one-half of the surveyed local businesses (53.7%) chose Facebook's targeted display ad function as a reason for continuing with Facebook Ads and 49.3% said it was good for finding new business customers.
But not every business has found success with Facebook Ads. Among the 35% of local businesses who say they would no longer advertise with Facebook, 69.0% claimed Facebook Ads didn't help them to find new customers or clients and 34.5% say the ad network was far too expensive to operate.
Digital Marketing Channels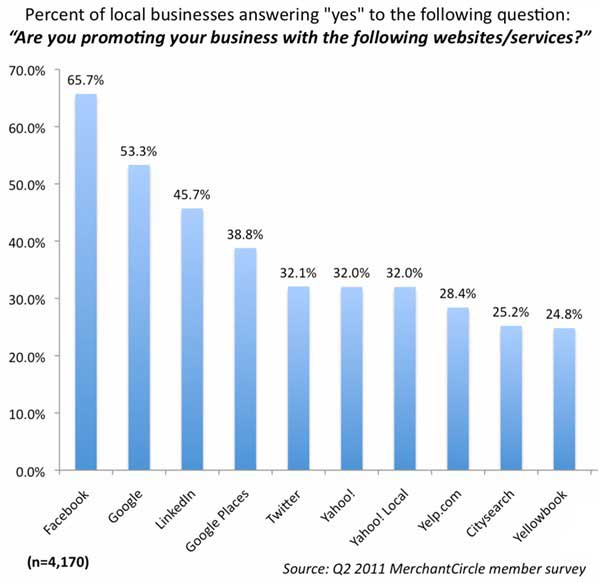 Facebook is the preferred digital channel among local businesses (65.7%), followed by Google (53.3%), LinkedIn (45.7%), Google Places (38.8%), and Twitter (32.1%).
Meanwhile, location-based marketing dropped in the previous quarter: 22% of local businesses say they are now
using Facebook Places to market their business, compared with the 32% who said so in MerchantCircle's 1Q11 report; similarly, 7.3% are now using Foursquare, compared with 9% in 1Q11.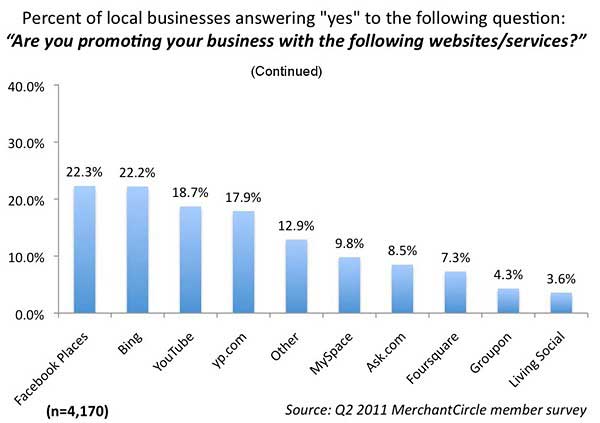 Local businesses have also been cautious about using top group-buying sites such as Groupon (4.3%) and Living Social (3.6%) for marketing their business through discounted promos.
Group-Buying Marketing Low, but Favorability High
1 in 10 local businesses (9.4%) say they have used a groupon style site within their marketing strategy; of them, 77% admit that they would definately offer a 1 day promotional deal again :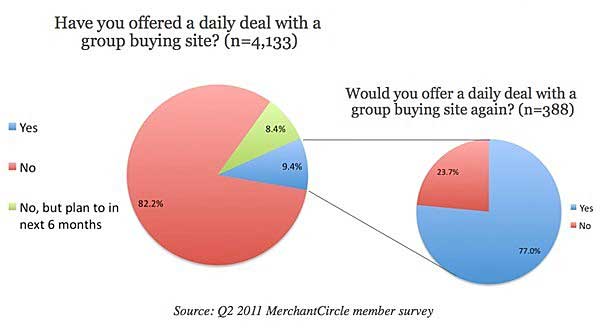 And 8.4% of local businesses plan to use group-buying sites in the next six months.
Among the local businesses who said they would not use group-buying sites again, 42% say that their deals didd not bring them any new customers, 25% stated that the costs where way too high, and 24% say that groupon style sites is are a no win strategy.
Evolution of The Group-Buying Market



Within the rapidly evolving group-buying community, familiarity with well-known brands Facebook and Google may give those brands a long-term advantage over current market leaders Groupon and LivingSocial: 52% of local businesses say such familiarity would lead them to choose Facebook Deals or Google Offers over other competitive offers like Groupon.
Other reasons for choosing Facebook Deals are a bigger audience size (26%) and better local targeting (21%). Those more likely to use Google Offers stated Google's bigger audience (42%) and Google's brand reputation (34%).
Mobile Marketing?



Very few local businesses are experimenting with mobile: only 18% of local business owners reported doing any sort of mobile marketing or advertising.
We believe this is down to a lack of understanding as a barrier to mobile marketing strategies: a massive 71% of business owners say they don't have a clue of how to reach new consumers using mobile marketing.
Not surprisingly, most local businesses say they neither have the funds or time for marketing:
61% are spending less than $2,500 a year on their marketing campaign.
73% have amde no plans to increase their marketing budgets this year.
37% stated lack of time and resources as their main marketing challenge.
About the data: Findings are based on the sixth Merchant Confidence Index survey, fielded online from April 30 to June 6, 2011 among 4,942 local business owners ; 78% of respondents employ fewer than five people.